Books
---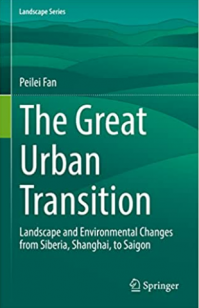 The Great Urban Transition: Landscape and Environmental Changes from Siberia, Shanghai, to Saigon (Landscape Series, 34) 1st ed. 2022 Edition
This monograph examines the (sub)urbanization process of seven transitional economies in Southeast, East, and North Asia (SENA), i.e., Siberia of Russia in North Asia, China and Mongolia in East Asia, and Cambodia, Lao PDR, Myanmar, and Vietnam in Southeast Asia.
In ten chapters, great urban transformation occurred in SENA is discussed, as well as the transitional period which aggravated urban environments in SENA cities and how 'institutional shift,' enabled by movements of urban residents and transitional urban governance, may facilitate the process and improve the urban environmental condition. 
Author: Peilei Fan 
---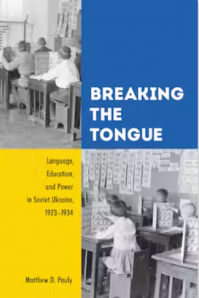 Breaking the Tongue: Language, Education, and Power in Soviet Ukraine, 1923-1934
In the 1920s and early 1930s, the Communist Party embraced a policy to promote national consciousness among the Soviet Union's many national minorities as a means of Sovietizing them. In Ukraine, Ukrainian-language schooling, coupled with pedagogical innovation, was expected to serve as the lynchpin of this social transformation for the republic's children.
The first detailed archival study of the local implications of Soviet nationalities policy, Breaking the Tongue examines the implementation of the Ukrainization of schools and children's organizations. Matthew D. Pauly demonstrates that Ukrainization faltered because of local resistance, a lack of resources, and Communist Party anxieties about nationalism and a weakening of Soviet power – a process that culminated in mass arrests, repression, and a fundamental adjustment in policy.
Author: Matthew D. Pauly
---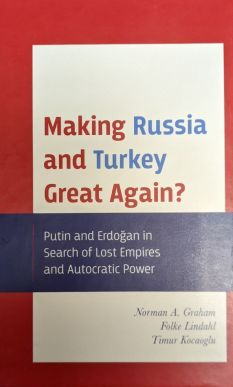 Making Russia and Turkey Great Again? Putin and Erdogan in Search of Lost Empires and Autocratic Power
This study analyzes theoretically and empirically the background of the rise to power of Vladimir Putin in Russia and Recip Tayyip Erdogan in Turkey. It situates this analysis in the contexts of the historical assessment of the fragility of liberal democracy and the persistence and growth of authoritarianism, populism, and dictatorship in many parts of the world. The authors argue that the question whether Putin and Erdogan can make Russia and Turkey great again is hard to confirm; personal ambition for power and wealth is certainly key to an understanding of both rulers. They each squandered opportunities to build from free and fair democratic electoral legitimacy and economic progress. The prospect for restored national greatness depends on how they can handle the economic and political challenges they now face and will continue to face in the near future, in a climate of global pandemic and economic recession. Both rulers so far have succeeded in maintaining and increasing their powers and influence in their respective regions, but neither has made real contributions to regional stability and order. Chaos seems to be growing, and the EU and the U.S. thus far seem unable to provide coherent responses to mitigate the impact of their adventurism and disruption.
Authors: Norman A. Graham; Folke Lindahl and Timur Kocaoglu (Michigan State University)
Lexington Books/Rowman&Littlefield, 2021 (April)
---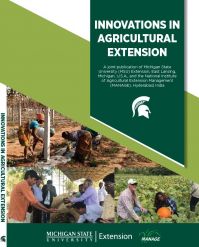 Under the MSU-Extension and MANAGE-India Partnership, a new book has been published titled "Innovation in Agricultural Extension."  The book includes 20 chapters written by authors from MSU-Extension, India as well as case studies from Nigeria, Central Asia and Nepal.  The Chapter 6 focuses on MSU's work in Central Asia . For wider access globally, the book is also freely available online here.
---
Project of Cultural Autonomy of Turkestan by Mahmudkhoja Behbudi.
Shamsiddin Kamoliddin and 

Timur

 Kocaoglu
Text. Translation. Commentary. Saarbrücken: LAP, 2021. 300 p.
The book is devoted to the study of an important historical and political document - the manuscript of the "Project of Cultural Autonomy of Turkestan", prepared by Mahmudkhodja Behbudi (1875-1919), one of the prominent leaders of the Turkestan Jadid movement. The document was written in ink on the pages of an ordinary notebook in Uzbek with Old Uzbek (Arabic) graphics. It contains proposals for reforming and changing the current colonial legislation in the Russian colony of Turkestan, taking into account the interests and rights of the local population. 
This project, written by Behbudi himself, was a unique for its time cultural and political program of the Jadids of Turkestan, submitted in October 1907 for the consideration of the Muslim faction of the III State Duma of Russia. The Muslim faction presented it as a proposal to the 3rd Duma, but after discussion it was rejected by the Duma members and remained in the personal archive of the leader of the Muslim faction Ismailbek Gasprali (Gasprinsky). During the Soviet era, his daughter, Shafika Khanum, moved to Turkey and brought her father's archive with her, and before her death gave it to Dr. Nejib Hablemitoglu in Ankara. The Turkish professor Timur Kocaoglu published a transcription of the text of the Behbudi project and a facsimile of this manuscript in 2001.
This book includes an introduction, the text of the project "Turkestan Cultural Autonomy" in Old Uzbek script, its transcriptions in Latin and Cyrillic, Russian translation, scientific commentary, facsimile of the manuscript, as well as a dictionary of Arabic, Persian, Russian and Ottoman Turkish terms. In addition to the list of used literature, there is also a list of references recommended for additional reading. 
The book is intended for historians and researchers, as well as students and all readers interested in the new history of our country in general, in particular, the history of political organizations and movements that fought for independence in Turkestan.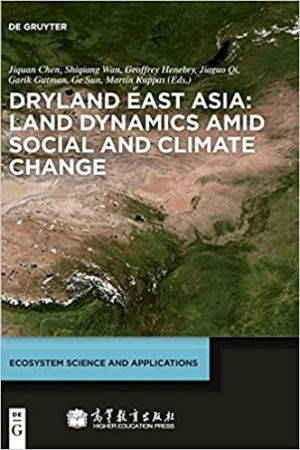 Drylands in East Asia (DEA) are home to more than one billion people and vulnerable to natural and anthropogenic changes. In order to develop adaptation strategies one needs to know how ecosystems respond to these changes. The book provides state-of-the-art knowledge on drylands ecosystem dynamics, climate changes, and land use in DEA. With contributions from international experts, the book will be of interest both to researchers and students.
Authors: Jiquan Chen, University of Toledo, OH, USA; Shiqiang Wan, Henan University, China; Geoffrey Henebry, South Dakota State University, Brookings, SD, USA; Jiaguo Qi, Michigan State University, Ann Arbor, USA; Garik Gutman, Land Cover Land Use Change Program, NASA, Washington DC, USA; Ge Sun, Southern Research Station, USDA Forest Service, Asheville, NC, USA; Martin Kappas, Georg August University, Göttingen, Germany.

(NIU Series in Slavic, East European, and Eurasian Studies)
This memoir by one of the foremost scholars of the Soviet period spans three continents and more than half a century—from the 1950s when Lewis Siegelbaum's father was a victim of McCarthyism up through the implosion of the Soviet Union and beyond. Siegelbaum recreates journeys of discovery and self-discovery in the tumult of student rebellion at Columbia University during the Vietnam War, graduate study at Oxford, and Moscow at the height of détente. His story takes the reader into the Soviet archives, the coalfields of eastern Ukraine, and the newly independent Uzbekistan.
An intellectual autobiography that is also a biography of the field of Anglophone Soviet history, Stuck on Communism is a guide for how to lead a life on the Left that integrates political and professional commitments. Siegelbaum reveals the attractiveness of Communism as an object of study and its continued relevance decades after its disappearance from the landscape of its origin.
Through the journey of a book that is in the end a romance, Siegelbaum discovers the truth in the notion that no matter what historians take as their subject, they are always writing about themselves.

Freshwater, Fish and the Future: Proceedings of the Global Cross-Sectoral Conference
Edited by William W. Taylor, Devin M. Bartley, Chris I. Goddard, Nancy J. Leonard, and Robin Welcomme
Inland fish and their fisheries provide important nutritional, economic, cultural, and recreational benefits and are key components of sustainable ecosystem function throughout the world. Based on papers presented during the 2015 Global Conference on Inland Fisheries organized by the UN Food and Agriculture Organization and Michigan State University, the book includes recommendations for improving information, communication, and governance relating to inland aquatic ecosystems and the fisheries and people they support. The book's chapters call for better integration of all the sectors using the world's freshwaters and offer a roadmap to ensure inland fisheries continue to provide food security and livelihoods to people today and in the future.
The book assesses the challenges facing inland fisheries worldwide, along with recommendations for addressing them, and provides potential future directions for policy makers, international development organizations, social and biological scientists, and natural resource managers.
Turkish-Azerbaijani Relations: One Nation—Two States?
Edited by Murad Ismayilov, Norman A. Graham
An east-west axis of Azerbaijan and Turkey has grown into prominence within the broader structure of regional dynamics in Eurasia over the past two decades. Yet few, including among policy advisors and policy makers in either of the two states, have attempted to look deeper into the forces that lie behind the workings of this important regional nexus, a reality that resulted in a dual crisis in bilateral relations towards the end of the second decade of interaction.
This volume investigates the underlying causes that shaped the dynamics within the structure of the bilateral relationship between Azerbaijan and Turkey. It features chapters by both scholars from the region and international experts in the field, and therefore provides both in-house and outside perspectives on developments within the complex structure of the relationship. With its analysis portfolio including historical, political, economic, socio-cultural, ideological, and international underpinnings of this regional alliance, the volume offers the most systematic and broad ranged analysis of the matter available to date.
The book will serve as an important resource for students and scholars of post-Soviet Studies, Central Asia and the Caucasus, and the Middle East, while also being of interest to those of International Relations and political science disciplines.
The Varieties of Religious Repression: Why Governments Restrict Religion
Ani Sarkissian
Religious repression-defined as the nonviolent suppression of civil and political rights-is a growing global phenomenon, but one that has not received as much attention as violent religious persecution. Though it is most often practiced in dictatorships, levels of religious repression nevertheless vary across a range of nondemocratic regimes, including illiberal democracies and competitive authoritarian states. This book argues that seemingly benign and legal forms of regulations, requirements, and restrictions on religion are important tools by which nondemocratic leaders repress independent civic activity and thus maintain their hold on power. Examining the interaction of levels of political competition and the structure of religious divisions in society, this book presents a theory of why religious repression varies across nondemocratic regimes and how political leaders decide which groups to target with it. It thus offers a new way of understanding the commonalities and differences of nondemocratic regimes by focusing on the targets of repression. Drawing on both quantitative data from 101 authoritarian states from 1990 to 2010 and case studies of 16 countries from around the world, this book explores the varieties of repression states impose on religious expression, association, and political activities and describes the obstacles these present for democratization, pluralism, and the development of an independent civil society.
Broad Is My Native Land: Repertoires and Regimes of Migration in Russia's Twentieth Century
Lewis H. Siegelbaum, Leslie Page Moch
Cornell University Press
Whether voluntary or coerced, hopeful or desperate, people moved in unprecedented numbers across Russia's vast territory during the twentieth century. Broad Is My Native Land is the first history of late imperial, Soviet, and post-Soviet Russia through the lens of migration. Lewis H. Siegelbaum and Leslie Page Moch tell the stories of Russians on the move, capturing the rich variety of their experiences by distinguishing among categories of migrants—settlers, seasonal workers, migrants to the city, career and military migrants, evacuees and refugees, deportees, and itinerants. So vast and diverse was Russian political space that in their journeys, migrants often crossed multiple cultural, linguistic, and administrative borders. By comparing the institutions and experiences of migration across the century and placing Russia in an international context, Siegelbaum and Moch have made a magisterial contribution to both the history of Russia and the study of global migration.
The authors draw on three kinds of sources: letters to authorities (typically appeals for assistance); the myriad forms employed in communication about the provision of transportation, food, accommodation, and employment for migrants; and interviews with and memoirs by people who moved or were moved, often under the most harrowing of circumstances. Taken together, these sources reveal the complex relationship between the regimes of state control that sought to regulate internal movement and the tactical repertoires employed by the migrants themselves in their often successful attempts to manipulate, resist, and survive these official directives.
Eurasian Political Economy & Public Policy Studies
The Eurasian Political Economy and Public Policy Studies series focuses on the neglected but clearly emerging region of Eurasia, with an emphasis on trends and challenges in political economy and public policy— especially the challenges of the twin transitions of democratization and economic liberalization in the post- Soviet space.
After the Czars and Commissars: Journalism in Authoritarian Post-Soviet Central Asia
Edited by Eric Freedman, and Richard Shafer
From Czarism and Bolshevism to the current post-communist era, the media in Central Asia has been tightly constrained. Though the governments in the region assert that a free press is permitted to operate, research has shown this to be untrue. In all five former Soviet republics of Central Asia, the media has been controlled, suppressed, punished, and often outlawed. This enlightening collection of essays investigates the reasons why these countries have failed to develop independent and sustainable press systems. It documents the complex relationship between the press and governance, nation-building, national identity, and public policy. In this book, scholars explore the numerous and broad-reaching implications of media control in a variety of contexts, touching on topics such as Internet regulation and censorship, press rights abuses, professional journalism standards and self-censorship, media ownership, ethnic newspapers, blogging, Western broadcasting into the region, and coverage of terrorism.
Democracy and Autocracy in Eurasia: Georgia in Transition
Edited by Irakly Areshidze, and Norman A. Graham

Written by an insider and leading authority, Democracy and Autocracy in Eurasia is a compelling chronicle of the political development of the Republic of Georgia since the collapse of the Soviet Union. Its author is uniquely positioned to tell this story, which draws on his in-depth understanding of Georgia's recent history and on his own involvement in the events that he recounts.
Many politicians, pundits, and scholars in the West have hailed Georgia for its transition to democracy, lavishing particular praise on the "Rose Revolution" of November 2003, during which the long- standing president Eduard Shevardnadze resigned and handed over his office to the charismatic young leader Mikheil Saakashvili. The Rose Revolution takes its name from the flowers that Saakashvili and his supporters carried with them when they publicly disputed the results of the parliamentary elections of early November. Images of tens of thousands of people protesting outside the Parliament were broadcast throughout the world and have encouraged the impression that the Rose Revolution was a genuine revolt of the electorate that led to sweeping changes throughout the government. This is simply a myth, according to Irakly Areshidze, who was a high-ranking political consultant in Georgia during the time of the revolution.
Supported by nearly 100 interviews, Areshidze argues that the change of power in 2003 was not a step forward for democracy but rather a dramatic move backward. He contends that Georgia was well on its way toward democratic rule before the disputed elections of November and that the Rose Revolution actually subverted the nation's political evolution. Dubbing the alleged revolution "an extra-constitutional power grab," Areshidze reveals what went wrong in Georgia and why. This is a surprising, compelling book, essential and instructive reading for everyone who cares about the future of democracy around the globe.
Gender Politics in Post-Communist Eurasia
Edited by Linda Racioppi, and Katherine O'Sullivan See
Reflecting on two decades of experience, Gender Politics in Post-Communist Eurasia offers new and important insights into contemporary global gender politics by leading scholars from Central Asia, Europe, and the United States - into the contemporary dynamics of gender politics in a critical area of the world.
The volume includes case studies of Romania, Russia, and Tajikistan; comparative analyses of Azerbaijan, Kazakhstan, Kyrgyzstan, Tajikistan, and Uzbekistan; and regional examinations of Eastern and Central Europe and Central Asia. The interdisciplinary contributions focus on issues such as the influence of global and regional norms on women's rights, the impact of international political economy on women's social and economic positions, and the implications of international and regional migration and human trafficking for women's lives.
Gender Politics in Post-Communist Eurasia provides wide-ranging analyses that capture the distinctiveness of specific countries and regions while illuminating the interplay between the local and the global in gender politics.
In the Shadow of Russia: Reform in Kazakahstan and Uzbekistan
Edited by Pamela Blackmon
In the twenty years since the dissolution of the Soviet Union, the fifteen new independent republics have embarked on unprecedented transitions from command economies into market-oriented economies.
Important motivating factors for their reform efforts included issues of geographic and economic proximity to Europe and the influence of the pre-Soviet era histories in those countries. In the Shadow of Russia builds upon the conceptual frameworks that include geography and policy choices about economic integration in an analysis of the reform efforts of Kazakhstan and Uzbekistan.
Blackmon's book addresses such central questions as: How and in what areas has a republic's previous level of integration with Soviet-era Russia influenced its present economic orientation? What are the contributing factors that explain the differences in how leaders ( of a similar regime type) developed economic reform policies? To answer these questions, the author utilizes information from both the economic and the political literature on post-communist transitions, as well from political speeches.
The Political Economy of Transition in Eurasia: Democratization and Economic Liberalization in a Global Eonomy
Edited by Norman A. Graham, and Folke Lindahl
The Political Economy of Transition in Eurasia looks at the progress in democratization and economic liberalization of the 27 post- communist countries of Eurasia with some guarded optimism. Belarus, Tajikistan, Turkmenistan, and Uzbekistan are clearly unabashed authoritarian regimes with only sporadic ventures toward political accountability and very limited effort to liberalize economically. Azerbaijan, Kazakhstan, Kyrgyzstan, and Russia have made more substantial moves, particularly on the economic side, but the regimes seem to be undergoing political retrenchment. Hungary, Poland, the Czech Republic, Slovenia, and the three Baltic States clearly have competitive democracies with effective political institutions and processes and functioning market economies. However, as some of the contributors suggest, some very serious challenges and unmet expectations remain. It is clear that the "dual transition" of democratization and economic liberalization has been a challenge for all the regimes that have seriously attempted it.
Journal and Conference Articles
---
Zhang, W., H. Li, D. W. Hyndman, Y. Diao, J. Geng and S. G. Pueppke.  2020.  Water quality trends under rapid agricultural expansion and enhanced in-stream interception in a hilly watershed of Eastern China.  Environ. Res. Lett. Doi:10.1088/1748-9326/ab8981.
Zhang, W., H. Li, S. G. Pueppke, Y. Diao, X. Nie, J. Geng, D. Chen and J. Pang.  2020.  Nutrient loss is sensitive to land cover changes and slope gradients of agricultural hillsides: Evidence from four contrasting pond systems in a hilly catchment.  Agric. Water Mgmt. 237, 106165; doi:10.1016/j.agwat.2020.106165.
Chen, D., H. Li, W. Zhang, S. G. Pueppke, J. Pang and Y. Diao.  2020.  Spatiotemporal dynamics of nitrogen transport in the Qiandao Lake basin, a large hilly monsoon basin of Southeastern China.  Water 12, 1075; doi:10.3390/w12041075.
Qi, J., S. G. Pueppke, R. Kulmatov, T. Bobushev, S. Tao, T. I. Yespolov, M. Beksultanov and X. Chen.  2020.  The complexity and challenges of Central Asia's water-energy-food systems.  In G. Gutman, J. Chen, G. M. Henebry and M Kappas, Eds.  Landscape Dynamics of Drylands across Greater Central Asia: People, Societies and Ecosystems, Springer, Switzerland, pp. 71-85.
Chen, J., Z. Ouyang, R. John, G. M. Henebry, P. Y. Groisman, A. Karniele, S. G. Pueppke, M. Kussainova, A. Amartuvshin, A. Tulobaev, T. I. Espolov, C. Crank, A. Kadhim, J. Qi and G. Gutman.  2020.  Social-ecological systems across the Asian Drylands Belt (ADB).  In G. Gutman, J. Chen, G. M. Henebry and M Kappas, Eds.  Landscape Dynamics of Drylands across Greater Central Asia: People, Societies and Ecosystems, Springer, Switzerland, pp. 191-225.
Nurtazin, S., S. G. Pueppke, T. Ospan, A. Mukhitdinov and T. Elebessov.  2020.  Quality of drinking water in the Balkhash District of Kazakhstan's Almaty Region.  Water 12, 392; doi:10.3390/w12020392.
Qi, J., S. Tao, S. G. Pueppke, T. E. Espolov, M. Beksultanov, X. Chen and X. Cai.  2020.    Changes in land use/land cover and net primary productivity in the transboundary Ili-Balkhash basin of Central Asia.  Environ. Res. Commun. 2, 011006; doi:10.1088/2515-7620/ab5e1f.
Tao, Y., Z. Zhang, W. Ou, J. Guo and S. G. Pueppke.  2020.  How does urban form influence PM2.5 concentrations: Insights from 350 different-sized cities in the rapidly urbanizing Yangtze River Delta region of China, 1998-2015.  Cities 98, 102581; doi:10.1016/j.cities.2019.102581.
Yi, J., J. Guo, M. Ou, S. G. Pueppke, W. Ou, Y. Tao and J. Qi.  2020.  Sustainability assessment of the water-energy-food nexus in Jiangsu Province, China.  Habitat Int. 95, 10294; doi:10.1016/j.habitatint.2019.102094.
Nurtazin, S. T., N. Thevs, M. Iklasov, N. Graham R. Salmurzauli, and S. G. Pueppke.  2019.  Challenges to the sustainable use of water resources in the Ili River basin of Central Asia.  E3S Web of Conferences 81, 01009; doi:10.1051/e3sconf/ 20198101009.
Pueppke, S. G., W. Zhang, H. Li, D. Chen and W. Ou.  2019.  An integrative framework to control watershed nutrient loss:  Insights from two hilly basins in China's Yangtze River Delta.  Water 11, 2036; doi:10.3390/w11102036.
Wu, Y., Tao, Y., Wang, G. Ou, W., Pueppke, S. G., Sun, X., Chen, G. and Q. Tao. 2019.  Impact of land use change on multiple ecosystem services in the rapidly urbanizing Kunshan City of China:  Past trajectories and future projections.  Land Use Policy 85, 419-427.
Zhang, W., S. G. Pueppke, H. Li, J. Geng, Y. Diao and D. W. Hyndman.  2019.  Modeling phosphorus sources and transport in a headwater catchment with rapid agricultural expansion.  Environ. Pollut. 255, 113273; doi:10.1016/ j.envpol.2019.113273.
Pueppke, S. G., S. T. Nurtazin, N. A. Graham, and J. Qi.  2018.  Central Asia's Ili River ecosystem as a wicked problem: Unraveling complex interrelationships at the interface of water, energy, and food.  Water 10, 541; doi:10.3390/w10050541.
Pueppke, S. G., M. K. Iklasov, V. Beckmann, S. T. Nurtazin, N. Thevs, S. Sharakhmetov, and B. Hoshino.  2018.  Challenges for sustainable use of the fish resources from Lake Balkhash, a fragile lake in an arid ecosystem.  Sustainability 10, 1234; doi:10.3390/su10041234.
Pueppke, S. G., Q. Zhang and S. T. Nurtazin.  2018.  Irrigation in the Ili River basin of Central Asia:  From ditches to dams and diversion.  Water 10, 1650; doi:10.3390/w101111650.
Graham, N. A., S. G. Pueppke, and T. Uderbayev.  2017.  The current status and future of Central Asia's fish and fisheries: Confronting a wicked problem.  Water 9, 701; doi:10.3390/w9090701.
Eric Freedman (2020) Not a priority: Barriers to environmental reporting in the Republic of Georgia, Applied Environmental Education & Communication, DOI: 10.1080/1533015X.2020.1749732
Abstract
Despite major ecological challenges and a pluralistic, partly free press system, news organizations in the Republic of Georgia generally provide little environmental coverage to their audiences. Interviews with journalists, media experts, and eco-NGO leaders identified four major reasons for the sparsity of coverage: shortcomings of journalists and news organizations; access to information and news sources; lack of priority; and lack of public demand.
Eric Freedman, International Studies and Programs, School of Journalism and Timur Kocaoglu, Center for Strategic Studies, Koc University, Istanbul, Turkey
This book consists of papers presented during the international conference organised by the Centre of Human Rights of Maltepe University, on November 6-7, 2008, in order to celebrate the 60th anniversary of the proclamation of the Universal Declaration of Human Rights
The main aim of the conference was to make an inventory of the main deveopments related to human rights during the past ten years, to hold a mirror to the present situation and try to explain how it came about, and discuss urgent need in our efforts to make progress in safeguarding "dignity and justice for all of us". 
Lewis H. Siegelbaum, Department of History, Michigan State University
Brown Bag at Center for European and Russian Studies, March 20, 2009
NB: This is a first (and very rough) draft that I am making available to provoke thought and comment. Please do not quote without my permission. Comments and suggestions should be sent to siegelba(at)msu.edu.
by Sherman W. Garnett (James Madison College, Michigan State University), Norman A. Graham (CERES, James Madison College, Michigan State University)
In September 1990, President George H.W. Bush, echoing Wilsonian sentiments of nearly a century before, called for a New World Order. Believing as others did back then that the end of the Cold War between the US and USSR offered real promise for ... (pp.1-52).
(Paper prepared for presentation at the Conference in celebration of 200 years of Russia-U.S. Diplomatic Relations, November 8-9, 2007, Moscow.)
by Norman A. Graham (CERES, James Madison College, Michigan State University), Anna K. Graham (Attorney at Law)
The struggle for a comprehensive EU Constitution raised attention to the challenge of focusing initiatives in "technical" or practical cooperation that are both closer to the real (albeit prosaic) interests of European citizens and worthy of serious attention in the near term. EU member states increasingly confront the realities of ...(pp.1-36) For the complete paper , visit Environmental Challenges Policy Rev (PDF)*
(Paper prepared for presentation at the Annual Conference of the International Studies Association, March 26-29, 2008, San Francisco.)