Statements by members of the MSU community
Statement by MSU President, Samuel L. Stanley Jr., M.D.
Joint statement by members of the Center for European, Russian, and Eurasian Studies, the Michael and Elaine Serling Institute for Jewish Studies and Modern Israel, and the Asian Studies Center.
Statement by members of the Center for European, Russian, and Eurasian Studies.
---
Upcoming Events
(at MSU, in mid Michigan, or online)
If you are aware of an upcoming event please let us know by sending an email to ceres(at)isp.msu.edu
---
Past Events
Thursday, April 13, 2023
6pm
Russian-Ukrainian War: Journalists can see more
Yuriy Likanov, Kyiv, Ukraine
Oakland University
195 Hannah Hall
Zoom link: https://t.co/5xZiNksk3R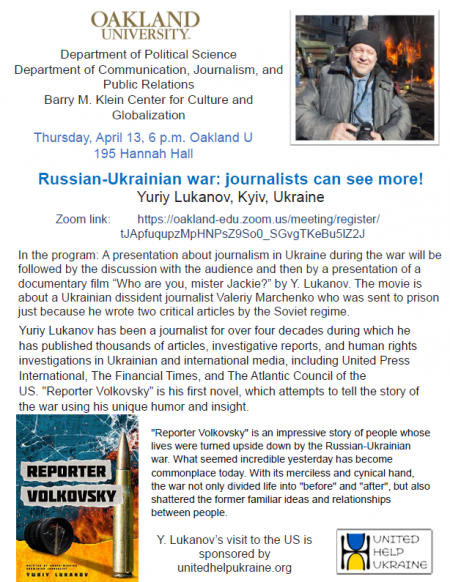 Monday - Saturday, March 20 - 25, 2023
Unissued Diplomas exhibit
MSU Business College (main hall): Mo-Tu, 10am-3pm
STEM Teaching and Learning Facility: Wd, 10am-3pm
Wells Hall: Th-Fr, 10am-3pm
MSU Ukrainian Students Organization together with Global Democracy Ambassador Scholars Anastasiia Mishanchuk and Mykola Bondarenko are holding the exhibition "Unissued Diplomas" at Michigan State University. 
The exhibition to remind the world about the ongoing war and the price Ukrainians pay daily in their fight for freedom. "Unissued Diplomas" honours the memory of Ukrainian students who will never graduate because their lives were taken by Russia's invasion of Ukraine. The "Unissued Diplomas" exhibition uncovers the stories of 36 Ukrainian students killed in the war.  It is being held in 45+ universities worldwide starting on February 24, which marked the anniversary of the day all Ukraine woke up from explosions.
There is a website where you can visit the virtual exhibition and donate to support Ukrainian students who stay in Ukraine and sacrifice their time and education to work for Ukraine's freedom: https://www.unissueddiplomas.org
Come and learn. Come and support us. Come and commemorate.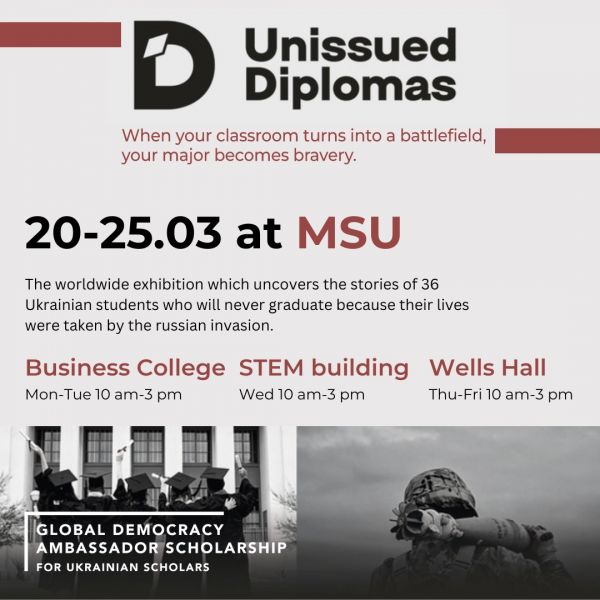 Monday, March 20, 2023
7pm
Detroit Film Theatre/Detroit Institute of Arts
"Life to the Limit" film screening
The film is a comprehensive account of Ukraine's resistance against Russia's attempts to colonize and eradicate its people and country. It covers significant events from The Revolution of Dignity in 2013-2014, to the Russian military invasion of Ukraine's Crimea and eastern Ukraine in 2014, to the full-scale war Russia launched against Ukraine on February 24, 2022. This is the first and only film that provides a comprehensive and detailed look into the Russian-Ukrainian war from 2013 to the present. The directors have processed 640 hours of memories, their own footage from the frontlines, and archival materials to create a mosaic of the causes and consequences of the conflict.
Registration (free): https://dia.org/events/life-limit
Hosts: The Ukrainian National Women's League of America (UNWLA) Detroit Regional Council and the Ukrainian-American Civic Committee of Metropolitan Detroit (UACC)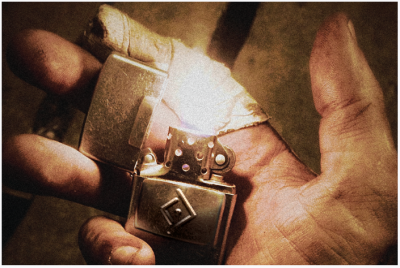 Sunday, February 26, 2023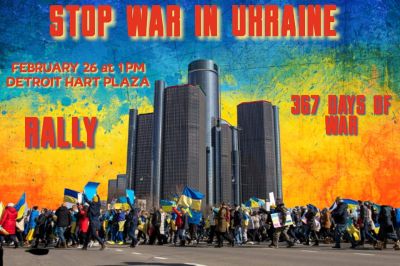 Saturday, February 25, 2023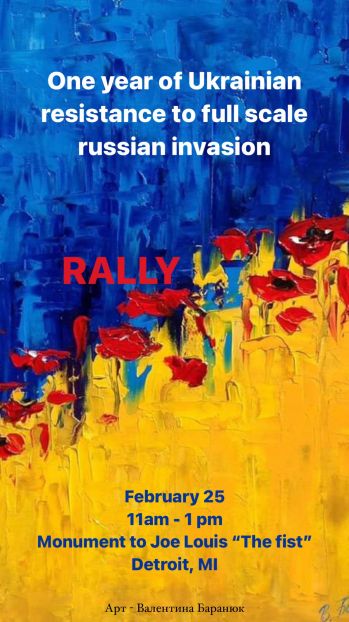 Friday, February 24, 2023
6pm-7pm
Gillett Bridge, Grand Rapids
Candlelight Vigil to Honor the Victims of the War in Ukraine
For more information: https://www.facebook.com/events/549896517065580/?ref=newsfeed
Friday, February 24
7pm
St. Mary the Protectress Ukrainian Orthodox Cathedral
Prayer vigil in recognition of one year of full scale war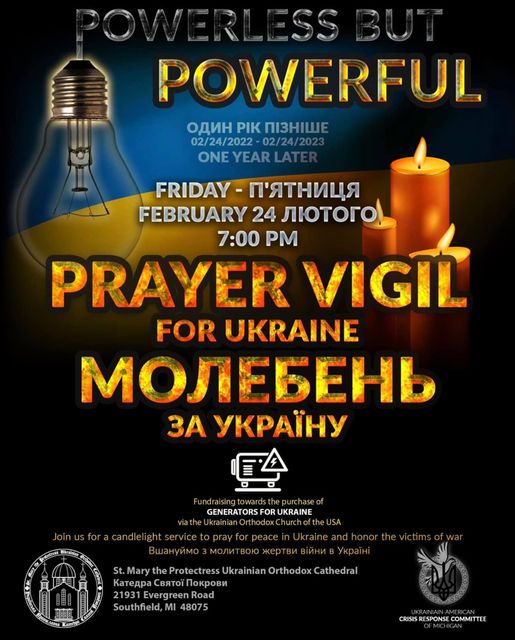 Monday, February 20, 2023
5pm
Horace H. Rackham School Of Graduate Studies, University of Michigan
WCEE Distinguished Lecture, special musical performance and candlelight vigil
The War in Ukraine, one year on
Retired U.S. Army Lt. Col. Alexander Vindman, former Director for European Affairs for the National Security Council
For more information: https://fordschool.umich.edu/event/2023/war-ukraine-one-year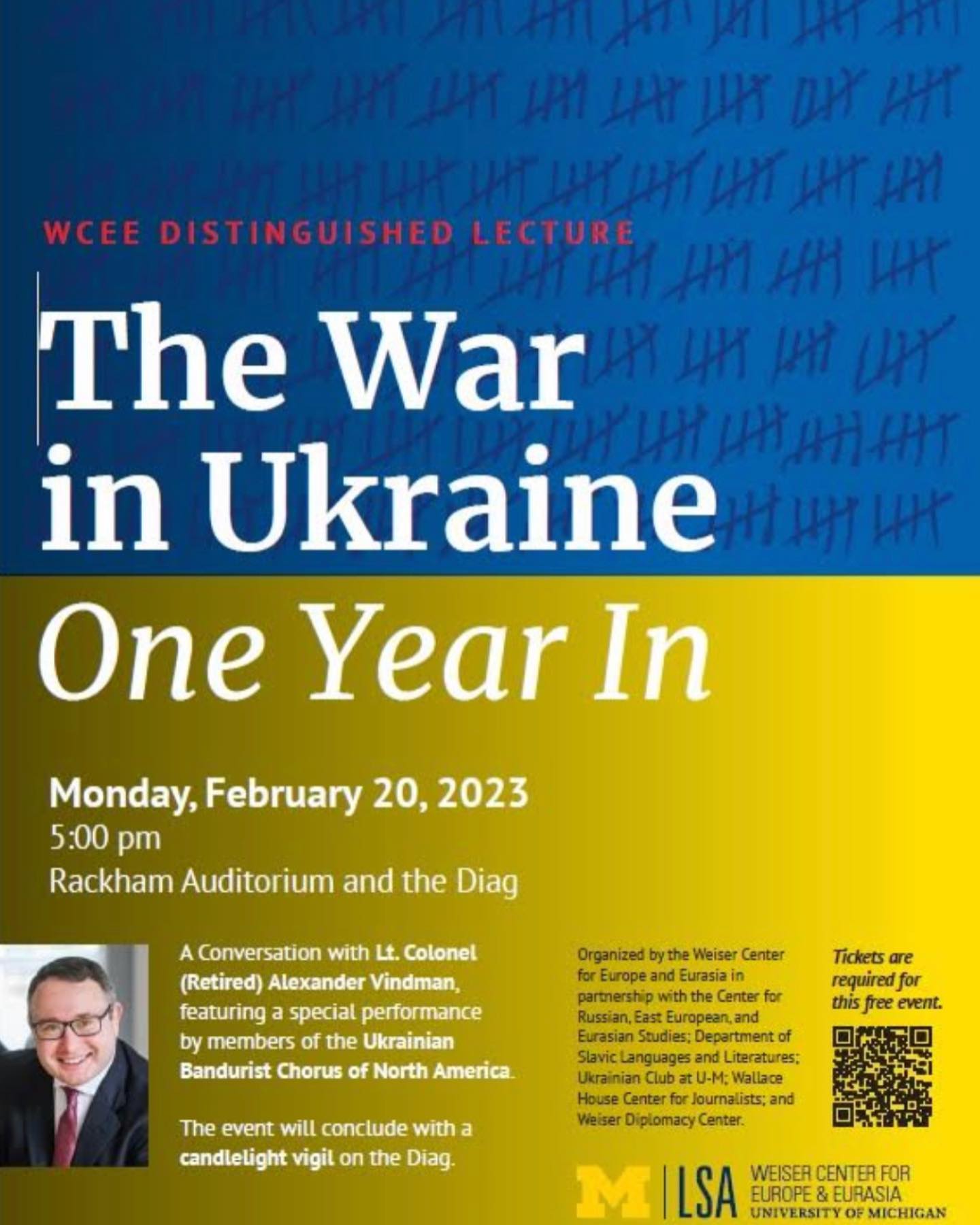 February 19, 2023
Sunday, 6:30pm (doors open 5:30pm)
Blues Benefit Show for Ukrainian Orphans
Urban Beat
1213 Turner St, Lansing (Old Town)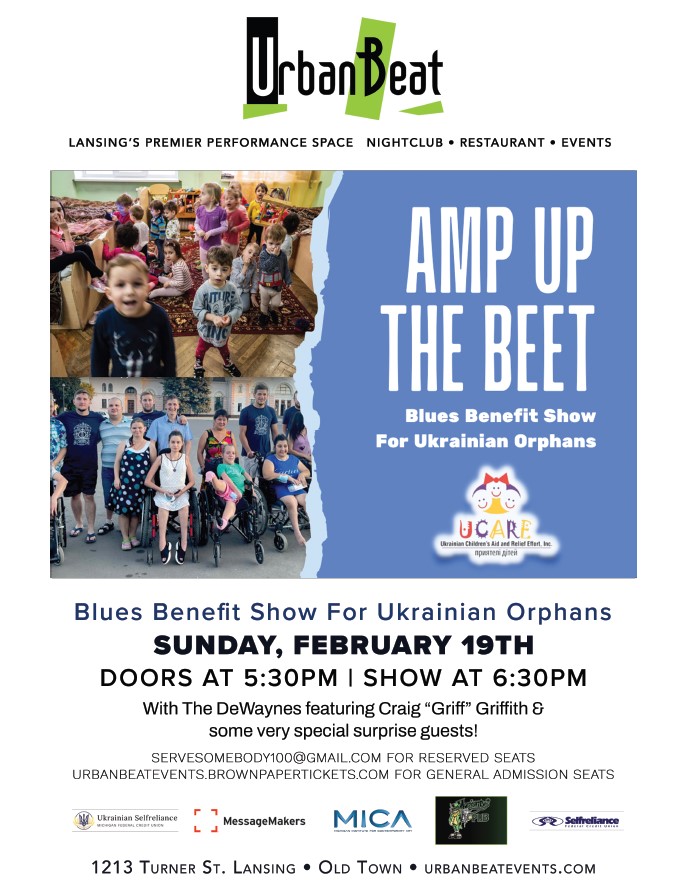 February 19, 2023
Sunday, 1:30pm (doors open 12:30pm)
Blues Fundraiser for Ambulances for Ukraine
Urban Beat
1213 Turner St, Lansing (Old Town)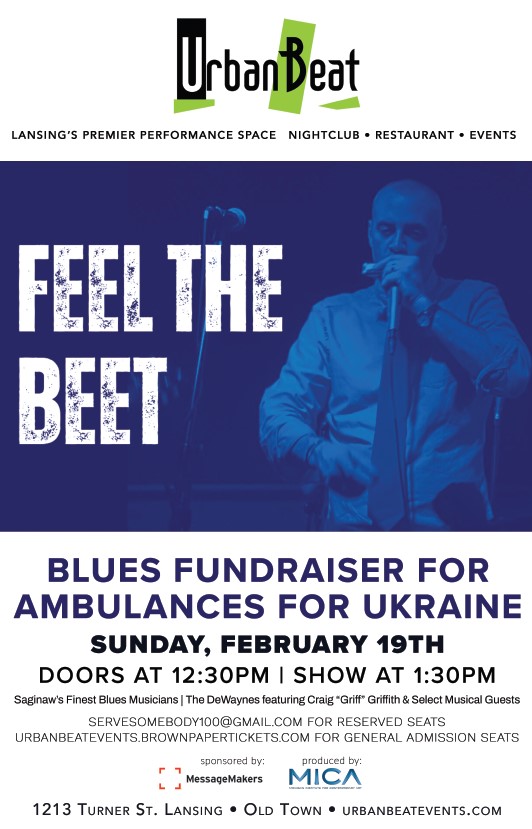 Friday, January 27, 2023
6:00pm-7:30pm
303 International Center
CERES Brown Bag Talk
A Conversation with Ukraine
Bob Wood (MSU, 1980) and Emily Rutkowski (MSU, 2012)
Flyer
January 15, 2023
Sunday, 3:00pm (doors open 2:00pm)
Benefit Show for Ukrainian Orphans
Prof. Solomia Soroka, Prof. Arthur Green, Luidmila Bondar
Urban Beat
1213 Turner St, Lansing (Old Town)


December 3, 2022
Saturday, 7:00pm (doors open 5:30pm)
Benefit Show for Ukrainian Orphans
Max Gage Trio, with special guest Randy Napoleon
Urban Beat
1213 Turner St, Lansing (Old Town)
Flyer
November 14, 2022
Monday, 5:30pm
Club Spartan (3rd floor Case Hall)
CERES Brown Bag talk
War in Ukraine: Underlying Causes and Prospects for Peace in the Second Nuclear Age
Paul D'Anieri
Professor of Political Science and Public Policy, University of California Riverside
Flyer
November 4, 2022
Friday, noon-1:30pm
International Center, Room 302
CERES Brown Bag talk
The Not-So-Surprising Russian War on Ukraine
Natalie Melnyczuk
Euro-Atlantic Security Consultant; Department of Political Science, Wayne State University; Government Affairs Committee, Ukrainian-American Crisis Response Committee of Michigan
Flyer
September 13, 2022
Tuesday, 4:00-5:30pm
WCEE Distinguished Lecture. Russia's War on Ukraine and Its Global Impact
Lech Wałęsa, President of Poland (1990-95), Nobel Peace Prize winner (1983)
Rackham Amphitheatre, 915 E Washington St, Ann Arbor, MI 48109
A livestream video of this event will be available at: https://myumi.ch/AwMPw
Flyer
September 1, 2022
Thursday, 5:30-7:00pm
The importance of military, financial, and humanitarian support for Ukraine from a U.S. National Security perspective
Town hall meeting with Rep. Elissa Slotkin
The event is co-organized by the Ukrainian-American Crisis Response Committee of Michigan, MSU Ukrainian Students Organization, and MSU Center for European, Russian and Eurasian Studies
Please register on Eventbrite: https://tinyurl.com/5f5un874
The exact on-campus location will be provided within 24-48 hours before the event.
Flyer
July 15, 2022
Friday, 1:00-2:30pm
Benefit Luncheon Show for Ukrainian Orphans
"Beets, Bandura, & Jazz"
featured artist: Mykola Deychakiwsky, traditional Ukrainian folk music bandura player
Urban Beat
1213 Turner St, Lansing (Old Town)
May 9, 2022
Monday, 5pm
Michigan State University campus
International Center, Room 303
The War in Ukraine and its Impact on Ukrainians: A Personal Perspective
Lecture by Andrey Kurkov, Ukrainian novelist, President of PEN Ukraine
Please register on Eventbright: https://bit.ly/3s0xXUV
Flyer attached
April 27, 2022
Wednesday, 12pm
Jewish Issues in Wartime Ukraine
Dr. Vitaly Chernoivanenko
Virtual event organized by the Frankel Center for Judaic Studies, Weiser Center for Europe and Eurasia, and Department of Slavic Languages & Literatures at the University of Michigan
Register here: https://myumi.ch/wMZWG
Flyer
April 18, 2022
Monday, 5:00pm
Post-Conflict Assistance to Ukraine: What to Expect?
Webinar with Susan K. Fritz, USAID Regional Mission Director to Ukraine and Belarus (2016 - 2020)
Flyer Video
April 16, 2022
Saturday, 9:30am
Club Spartan (3rd floor Case Hall)
Academic Panel: Russia's invasion of Ukraine
Join James Madison College professors Norman Graham, Martha Olcott, and Sherman Garnett, who specialize in Eastern European and Russian affairs, as they discuss Russia's invasion of Ukraine and its implications for European and global security.
Flyer
March 20, 2022
Sunday, 2pm
Michigan State Capitol, Lansing
Rally in Support of Ukraine
March 16, 2022
Wednesday, 7pm-8pm
Old Horticulture Building, Room 206
Russia's Invasion of Ukraine
Teach-in by Dr. Matthew Pauly (Associate Professor, History, MSU)
Event organized by the MSU Undergraduate History Club
Flyer
March 16, 2022
Wednesday, 5:30pm
Club Spartan (Case Hall)
Russia's invasion of Ukraine: What might lie ahead for Europe and the former Soviet Union
Panel discussion with International Relations professors: Dr. Sherman Garnett, Dr. Norman Graham, Dr. Martha Olcott
Flyer
March 3, 2022
Thursday, 4pm
Webinar "Ukraine, Russia and the United States" with former U.S. Ambassador to Ukraine, William B. Taylor
Organized by MSU Ukrainian Student Organization in association with MSU Center for European, Russian and Eurasian Studies
Flyer  Video
March 2, 2022
Wednesday, 3pm
Webinar "Understanding the War on Ukraine through Its Musical Culture"
Maria Sonevytsky, Associate Professor of Anthropology and Music, Bard College
Organized by MSU College of Music
Flyer Video
March 1, 2022
Tuesday, 5pm
Dem Hall Field, MSU campus 
Spartans Stand with Ukraine rally
Flyer

February 24, 2022
Thursday, 12:40pm-2:00pm
Russian Aggression against Ukraine
Teach-in by Dr. Matthew Pauly (Associate Professor, History, MSU)
Sponsored by MSU Global Studies in Arts and Humanities program
Flyer
---
Articles and interviews by CERES core faculty and students
Dr. Norman Graham, Professor of International Relations, James Madison College of Public Policy
Dr. Matthew Pauly, Associate Professor, Department of History
 John Vsetecka, PhD candidate, Department of History
---
Resources
For members of the MSU community affected by the war
Learning
Hosting
Help - organized and coordinated locally 
Donations
Other
---
Opportunities for Ukrainian scholars and students at U.S. Universities